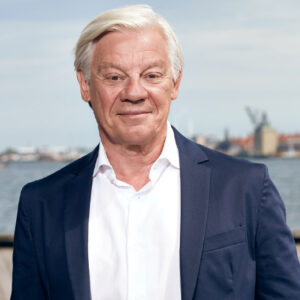 Chairman of the board of directors since 2017.
Professional background: Peter Benson (born 1955) led the formation of Sunstone Life Science Ventures and served as its Managing Partner from 2007-2019. In addition, Peter Benson has extensive experience from the Global Life Science industry as an investor, founder, board member and senior executive, including 10 listed companies. Previous positions include Head of Life Science Ventures at Vækstfonden (the Danish Growth Fund), President of Hospital Care and Senior Vice President at Pharmacia AB as well as Executive Vice President Marketing & Sales at Kabi Pharmacia Parenterals.
Education: Graduate in business administration from Lund University, Sweden. MA in Economics from the University of California, US, Diploma from IMD, Switzerland.
Other ongoing assignments: Chairman of Ascelia Pharma AB, Ascelia Incentive AB och Good Partners Media Group AB. Board member of Dextech Medical AB, Jollingham AB, Jollingham Group AB och PainDrainer AB. Deputy board member of Jelly Bean AB.
Holdings in Ascelia: View holdings
Independence: Independent in relation to the Company, its management and major shareholders.