Orviglance* (former working name Mangoral) is a novel oral imaging agent in development for use in MR-imaging of the liver. Orviglance aims to improve the detection and visualization of focal liver lesions (including liver metastases and primary tumors) in patients with severe kidney impairment. Orviglance is currently in Phase 3 development including the registration-enabling study, SPARKLE.
Orviglance (manganese chloride tetrahydrate, former working name Mangoral) is the first contrast agent in development for use in liver MR imaging in adults with severely impaired kidney function. These patients are at risk of developing the serious and potentially fatal condition Nephrogenic Systemic Fibrosis (NSF) if they use the gadolinium-based contrast agents currently available.
Orviglance has been granted an Orphan Drug Designation by the US FDA and is currently in Phase 3 development.

Contrast agents enable the radiologist to distinguish normal from abnormal tissue, which in turn guides diagnosis, treatment decisions, monitoring and planning. This can ultimately improve a patient's chances of survival.
MRI in combination with a contrast agent is regarded as the most sensitive diagnostic method for liver imaging.
NSF is a rare, but serious and life-threatening condition that causes extensive waxy thickening and hardening of the skin. It can lead to joint contractures and muscle and fascial fibrosis, which may lead to severe immobility. It can also affect the inner organs. NSF worsens over time and can cause death, which typically results from multi-system failure due to sclerotic transformation of organ systems.
Regulatory agencies, including the FDA and EMA, have released warnings about the use of GBCAs and clinical guidelines provide restrictions for the use in patients with severe renal impairment. Therefore, all gadolinium-based contrast agents (GBCAs) have black box warnings in their label for this patient population.
Orviglance, if approved by regulatory agencies, has the potential to be the standard of care for liver imaging of patients with impaired kidney function as it offers high quality imaging compared to an unenhanced MRI.
MRI in combination with a contrast agent is regarded as the most sensitive diagnostic method for liver imaging.
Orviglance is an orally administrated contrast agent. It is based on the chemical element manganese, which is a natural trace element in the body. Orviglance also con­tains an amino acid and a fat-soluble vitamin to increase the absorption of manganese from the small intestine into the portal liver vein. From here, the manganese is transported to the liver where it is taken up by and retained in the normal liver cells, also known as the hepatocytes.
MR-scans from a patient in the Phase 2 study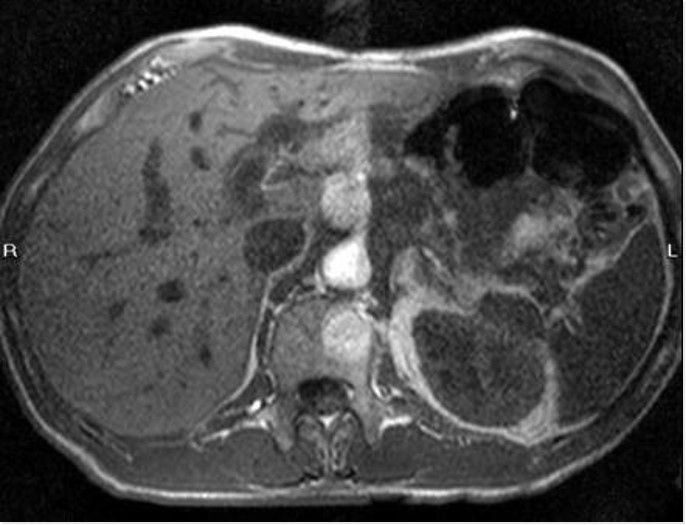 Unenhanced liver MRI (without contrast agent)
No metastasis visible
(standard of care today in target patient population)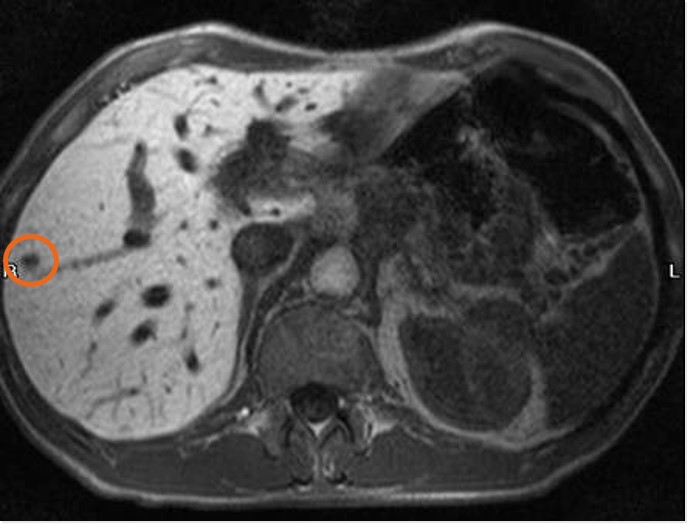 Orviglance (Mangoral) enhanced liver MRI
Metastasis becomes visible
Liver metastases are not normal liver cells (hepatocytes), so they do not take up manganese and consequently appear dark on MR images. With Orviglance, liver metastases are therefore easier to identify due to this contrast effect.
Manganese is excreted from the liver via the bile. The route of administration, uptake and excretion of Orviglance means that only very small amounts of manganese reach the systemic blood circulation.
Watch this video to learn about Orviglance (Mangoral) uptake in the liver
Two supporting studies aim to provide further data about the use of Orviglance in clinical practice: one study includes patients with hepatic impairment (impaired liver function) and one study to determine the effect of food intake on Orviglance uptake.
SPARKLE is a global multicenter study of Orviglance in up to 85 patients with severe renal impairment and known or suspected focal liver lesions. Primary efficacy, in terms of lesion visualization compared to unenhanced MRI, will be evaluated by three independent blinded readers.
The results in the Phase 1 and Phase 2 studies provide a solid foundation for the Phase 3 program as there is a high degree of similarity between the primary endpoints in Phase 2 and Phase 3, and since the Phase 3 study comparator for Orviglance is MRI with no contrast agent.
Read more about the SPARKLE study on clinicaltrials.gov
PHASE 3 STUDY SPARKLE
Patients
Global study, 200 patients
No randomisation – each patient as own control
Comparator
Unenhanced MRI + Orviglance MRI vs. Unenhanced MRI
Endpoint
Lesion visualization
– Lesion border delineation (border sharpness of lesions)
– Conspicuity (lesion contrast compared to liver background)
Follow-up
Less than a week
The safety assessments from these studies indicate that Orviglance is safe and well tolerated. Observed adverse events (diarrhea and nausea were most frequently reported) were mostly mild and transient in nature. The efficacy analyses show that diagnostic quality scores improved after use of Orviglance and provide support that Orviglance is an effective liver-specific non-gadolinium liver MRI contrast agent.
The blinded read study with 178 individuals showed that Orviglance significantly improved MRI performance. Compared to unenhanced MRI, 33% more lesions were detected after a Orviglance-enhanced MRI. Orviglance also improved MRI performance in terms of lesion visualization (conspicuity; p-value <0.0001) and delineation (p-value <0.0001). In addition, quantitative parameters like lesion-to-liver contrast ratio were significantly improved on Orviglance-enhanced MRIs compared to unenhanced MRIs.
These results have been presented at global radiology conferences, including the RSNA, ECR and SCBT-MR.
Another blinded read study was performed in Q4-2020 on the images from the conducted clinical trial at Karolinska University Hospital in Stockholm, Sweden. The endpoints and evaluation criteria in the re-read study were the same as in the current ongoing Phase 3 SPARKLE study. The results showed that Orviglance was as effective as the gadolinium-based contrast agent gadobenate dimeglumine for visualization of focal liver lesions. The results also showed that Orviglance-enhanced MRI provides improved diagnostic efficacy compared to MRI without a contrast agent.
Please note that Orviglance is an investigational medicinal product and is not yet approved for use by regulatory authorities in any jurisdiction.
*Trademark is registered in Europe and several other markets and submitted for registration in the US.